Coming Up in ELC:
Session 1 Electives End
Last day of session 1 electives
Thursday, October 6
11:00 – 12:50 pm
Upcoming Social Events:
Talk Time
Practice your English conversation skills with native English speakers!
Tuesday, October 4
4:30 – 5:30 pm
ELC BBQ Picnic
Enjoy delicious BBQ with your friends and classmates in the ELC!
 – 
1100 Kingsbury St, Austin, TX 78703
The Harry Ransom Center
The Harry Ransom Center is well-known around the world as an outstanding humanities research center. Right here on the campus of The University of Texas at Austin, the HRC's incredible collections contain millions of writings, rare books, photographs, and works of art.
Admission is free!
Hours:

Tuesday-Friday: 10 a.m.-5 p.m.
Saturday-Sunday: Noon-5 p.m.
Closed Mondays
The Writers: Portraits by Laura Wilson
On display until January 1, 2023.
Laura Wilson has photographed some of the most influential writers of our time.
This exhibition of her work at the Ransom Center features a selection of her powerful portraits documenting highly accomplished, award-winning writers. Immersing herself in each writer's own personal setting, Wilson reveals the details that have inspired their literary masterworks.
See stunning portraits of J. M. Coetzee, Edwidge Danticat, Louise Erdrich, Carlos Fuentes, Gabriel García Márquez, Tim O'Brien, Zadie Smith, and many others.
The papers of many of the writers portrayed are collected at the Ransom Center.
Read more about this exhibition.
Frida Kahlo's Self-Portrait with Thorn Necklace and Hummingbird:



Frida Kahlo was a self-taught artist and painter living in the early 20th century.
She is one of the most famous modern Mexican artists.
Her life and many struggles continue to inspire women, Latinos, people with disabilities, and LGBTQ+ people.
HRC has one of Kahlo's best-known self-portraits.
Read more about Frida Kahlo's Self-Portrait.
The Niépce Heliograph: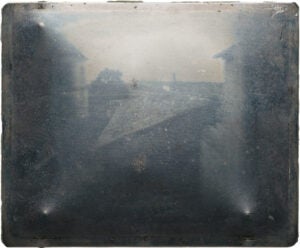 Made in 1827 by Joseph Nicéphore Niépce. 12 years before the photograph was invented!
"It is the earliest photograph produced with the aid of the camera obscura known to survive today."
"He tried an array of chemicals, materials, and techniques to advance the process he ultimately called héliographie, or 'sun writing.'"
"He inserted the plate into a camera obscura and positioned it near a window in his second-story workroom. After several days of exposure to sunlight, the plate yielded an impression of the courtyard, outbuildings, and trees outside."
Niépce called these ghostly pictures "points de vue."
Read more about The Niépce Heliograph.
And, if you need a reminder (like I did) of what a camera obscura is, check out this simple explanation.
The Gutenberg Bible:
"In Mainz, Germany, in the mid-1450s, Johann Gutenberg and his partner Johann Fust published more than 150 large-format copies of the Bible in Latin."
The Gutenberg Bible was the first book printed with a printing press to mass-produce books.
The printing press "helped change how information traveled in Europe and, later, the world."
HRC has one of only twenty surviving copies in the world!
You can read more about it and browse the digitized pages of this nearly 600-year old book.