Welcome Summer 2021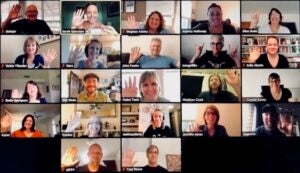 Coming Up in ELC:
1st Day of Class
Schedule
MWF – Texas Time
9:00 am – 10:30 am
11:00 am – 12:30 pm
2:00 pm – 3:30 pm
TTH – Texas Time
8:30 am – 10:45 am (AEP)
2:00 pm – 4:15 pm (ELP)
Applying to Graduate School Info. Session: 
Come and learn about the graduate school application process at U.T. and other U.S. universities!

Thursday, June 10
12:00 – 1:00 pm
Check the calendar on Canvas for more information.
Upcoming Social Events:
Talk Time Begins
Practice your English conversation skills with native English speakers!
Tuesday, June 8
4:30 – 5:30 pm
On campus: CBA 4.324 & 4.326
Heads Up Social
Socialize with your friends in the ELC during this fun app-based guessing game!
Thursday, June 10
4:30 – 5:30 pm
On Campus: CBA 4.324
On Zoom: Link on Canvas calendar!

Blanton Museum of Art

Contains 19,000 works in the collection, the Blanton showcases art from across the ages, from ancient Greek pottery to abstract expressionism.
Ellsworth Kelly's Austin, 2,715-square-foot stone building with luminous colored glass windows, a totemic wood sculpture, and fourteen black and white marble panels.
Important "Before You Visit" Information & Ticket Registration
#MuseumFromHome– explore the museum anytime, anywhere!
This online celebration kicked off construction of the Blanton Museum of Art's new museum grounds!
Learn about new architectural features, performance spaces, landscaping, and much more.
Featuring a Q&A with members of the Snøhetta design team.
Performances by local Austin musicians: Jackie Venson and Shinyribs.