Coming Up in ELC:
In-Person Final Reception: TALENT SHOW
Continuing Student Applications
AEP Student Meet-Up #2
Upcoming Social Events:

Jim-Jim's Water Ice Social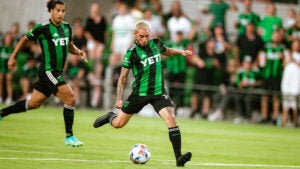 Austin FC
Football or soccer (as it is known in the US) is the world's most popular sport! Austin FC has just begun its first season in Major League Soccer, which is the sport's highest level in the United States and Canada. This is also the first season a top-tier sports franchise is playing in the Greater Austin region.
Schedule & Tickets:
Where to watch or stream:
Anyone with a smartphone, tablet or connected device who lives in the Austin area can livestream the matches for free.
Stream online at AustinFC.com and on the Austin FC app.
Austin FC's matches will also be televised at these official Bar Partners, linked here.
The closest Bar Partner to campus is Pluckers Wing Bar, located in West Campus at 2222 Rio Grande St.
Players & Coaches:
Verde and Black Podcast:
Practice your English skills by listening to this podcast!
A deep dive into the culture of Austin FC and life in Austin, TX.
Adrian Healey, the club's TV Play by Play voice, leads a bi-weekly journey through the stories and personalities that shape America's newest pro club.
Listen online HERE or on one of these platforms: Spotify, Apple Podcasts, Stitcher