Welcome Fall 2021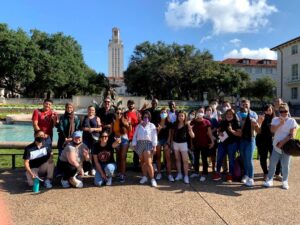 Coming Up in ELC:
1st Week of Classes:
August 30 – September 3, 2021
Schedule
MWF – Texas Time
9:00 am – 10:30 am
11:00 am – 12:30 pm
2:00 pm – 3:30 pm
TTH – Texas Time
8:30 am – 10:45 am (AEP)
2:00 pm – 4:15 pm (ELP)
AEP Student Meet-Up: 
This session is an informal opportunity for AEP students to meet each other and network with others of the same major and/or department.

Thursday, September 2
11:15 am – 12:15 pm
CBA 3.304
Check the calendar on Canvas for more information.
Upcoming Social Events:
Talk Time Begins
Practice your English conversation skills with native English speakers!
Tuesday, August 31
4:30 – 5:30 pm
On Zoom: Link on Canvas calendar!
Texas State Capitol Tour
Tour the beautiful and historic Texas State Capitol building with your friends in the ELC!
Friday, September 3
4:00 – 5:00 pm
Meet at the South Steps of the Texas Capitol building.
Map linked here.

Longhorn Family Reunion
Join President Jay Hartzell as he welcomes the Longhorn Community back to campus! All faculty, staff and students are welcome to celebrate the return to the Forty Acres.
Enjoy live music all afternoon from fellow Longhorns and stay cool with free treats from Cold Cookie Company and Odd Pops starting at 4 p.m.
September 1, 2021
4:00 – 6:00 p.m.
Speedway Mall and Gregory Gym Plaza
COVID-19 Safety
We are excited to welcome you for the Fall 2021 session. The university has recently updated their COVID safety protocols; please read on for details:
Masks strongly recommended: Masks are strongly recommended in all buildings, regardless of your vaccination status. See this chart for additional mask guidance.
COVID testing: The university offers free COVID testing, and we encourage all students to get tested regularly. Visit this website to see testing options and schedule an appointment.
Getting tested, even when you feel healthy, helps UT monitor and respond to COVID-19 and contributes significantly to slowing the spread of COVID-19 in our community.
Protect Texas Together app: Please download this smartphone app to complete daily symptom checks before reporting to campus. This app also provides contract tracing and helpful links to testing locations on campus.
Vaccinations: If you have not yet been fully vaccinated, free COVID vaccines are available on the UT campus. Visit this website to request a vaccination appointment at UT Health Austin. The vaccine is also offered free of charge at multiple clinics and pharmacies in the Austin area.
Pop-up site (August 23-September 24 only)

Texas Union Eastwoods Room (UNB 2.102)
2308 Whitis Ave.
Walk-in 12 p.m.–4 p.m., Monday, Wednesday and Friday

Clinics (ongoing)

University Health Services in the Student Services Building (students only)
100 W. Dean Keeton
By appointment only. Call 512-475-8301.
The Health Transformation Building at UT Health Austin
1601 Trinity Street, Bldg. A
Walk-in Monday through Friday, 9 a.m.–4:20 p.m., or schedule an appointment here (appointments required for 3rd doses).
2901 N. I35, Suite 1.301
By appointment only. Call 512-232-3900.
The university continues to monitor the COVID situation and may change operations with the health and safety of the community in mind. Please contact us at elc@austin.utexas.edu if you have any questions.