Coming Up in ELC:
Veterans Day

Thursday, November 11
This is a U.S. national holiday, but UT is open and classes will continue as normal.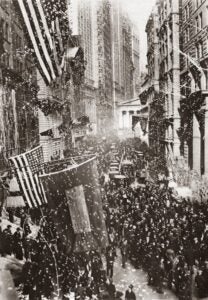 History of Veterans Day
We celebrate Veterans Day on November 11 because in 1918 at the 11th hour of that day the Allied nations signed an armistice with Germany.
Fighting of "The Great War" (later known as World War I) ceased. The Treaty of Versailles, which formally ended the war, was signed months later.
November 11 was originally known as "Armistice Day" and was a day to celebrate the veterans of World War I.
After the end of World War II, American veterans organizations argued for the renaming of the holiday to "Veterans Day."
According to the U.S. Department of Veterans Affairs, "on June 1, 1954, November 11th became a day to honor American veterans of all wars."
Resume, CV, and Cover Letter Writing Presentation
Learn why resumes, CVs, and cover letters  are important and how to write them!
Tuesday, November 9
5:00 – 6:00 pm Texas Time
On Zoom: Link on Canvas calendar!
Applying to Undergraduate School Info. Session: 
Join and learn about the undergraduate school application process at U.T., ACC, and other colleges and universities in the US!

Wednesday, November 10
4:00 – 5:00 pm
On Zoom: Link on Canvas calendar!
Scholarship Application: Spring 2022
Application available online HERE
Submission Deadline: Monday, November 15 @ 5:00 pm Texas Time

Two (2) scholarships are typically awarded: one for AEP

 and one for ELP

Award will cover 

$2500

 towards 

int

ensive tuition for the Spring 

2022

(15

–

week

) 

session in either AEP or ELP.
Continuing Student Applications
For Spring 2022
Application available online HERE
We would love to see you again!
Upcoming Social Events:
Talk Time
Practice your English conversation skills with native English speakers!
Tuesday, November 9
4:30 – 5:30 pm
On Zoom: Link on Canvas calendar!
In Person: PAR 208
Blind Draw Social 
Socialize with your friends in the ELC during this hilarious drawing game!
Thursday, November 11
4:30 – 5:30 pm
In Person: JES A209A
International Open Mic Night
Kick off International Education Week 2021 at the historic Cactus Café with International Open Mic Night!
Sponsored by Texas Global and hosted by local Austin singer-songwriter Kacy Crowley (longtime host of open mics at the Cactus Café), this evening of musical and poetic performances features talented students and scholars celebrating UT's global community.
Monday, November 15
Doors open at 7:00 pm
Performances begin at 7:30 pm
The Cactus Café is an all-ages venue located within UT's Union Building (UNB)
Outdoor Adventures
Barton Springs Pool
Natural spring-fed water.
It's COLD! 68-70 degrees Fahrenheit (20-21 degrees Celsius)
Federally protected habitat, which is home to the Barton Springs Salamander.
Hours: Guarded Swim- Mondays, Tuesdays, Wednesdays, Fridays, Saturdays, Sundays from 8:00 am to 6:00 pm
Currently free admission until Feb. 2022!
The Barton Creek Greenbelt
We just call it "the Greenbelt"
12.68 miles of gorgeous trails
Located just a few minutes from downtown!
Considered one of the top hiking trails in Texas
Great for hiking, mountain biking, several swimming holes (when there's water), and even rock climbing on the limestone bluffs!
Honestly, it can be a little confusing to find the access points. Click this link for a guide.
Lady Bird Lake Hike-and-Bike Trail
Austinites often call the river-like water bisecting Austin either Town Lake or Lady Bird Lake, but it's actually a reservoir of the Colorado River!
10 + miles of trail that meanders along the water's edge.
You'll pass by skyscrapers, neighborhoods, ball fields, and cultural attractions.
There's even a Boardwalk portion of the Trail!
View the interactive link of the trail here.
Kayaking & Stand Up Paddleboarding (SUP) on Town Lake
These are two of the MOST popular activities to do on Town Lake in Austin.
You sit down to kayak, and it can be fun and fast!
You stand up to paddleboard, it and can be a fun way to work out your abs!
There are several places to purchase rentals along the Hike-and-Bike Trail, check out these two popular locations: the Texas Rowing Center and the Rowing Dock.
Price: $15 – $35 per hour or $35 – $55 for the day.