Coming Up in ELC:
Scholarship Application: Spring 2022
Submission Deadline

: Monday, November 15 @ 5:00 pm Texas Time
Application available online HERE

Two (2) scholarships are typically awarded: one for AEP

 and one for ELP

Award will cover 

$2500

 towards 

int

ensive tuition for the Spring 

2022

(15

–

week

) 

session in either AEP or ELP.
Continuing Student Applications
For Spring 2022
Application available online HERE
We would love to see you again!
Upcoming Social Events:
Talk Time
Practice your English conversation skills with native English speakers!
Tuesday, November 16
4:30 – 5:30 pm
On Zoom: Link on Canvas calendar!
In Person: PAR 208

Bingo Social 
Will you be the first person to shout "BINGO"? Join your friends in the ELC to play this fun game of chance!
Thursday, November 18
4:30 – 5:30 pm
In Person: JES A209A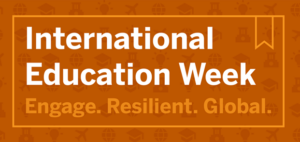 International Education Week
International Education Week (IEW) is a joint initiative of the U.S. Department of State and U.S. Department of Education to promote and celebrate the benefits of international education and exchange worldwide. The University of Texas at Austin participates annually in this important initiative by showcasing globally-focused events held across campus throughout the week. IEW 2021 will take place November 15-19.
UT Austin's week-long celebration embraces this year's theme of engagement, resilience and all things global. Colleges, schools and organizations across campus will host virtual and in-person events, including alumni career panels, activities for the international student community, education abroad information sessions, traditional cultural performances and art exhibits, and dozens of other activities open to all Longhorns.
Here are some of those events: (view the full list of events online, linked here)
Kick off International Education Week 2021 at the historic Cactus Café with International Open Mic Night!
Sponsored by Texas Global and hosted by local Austin singer-songwriter Kacy Crowley (longtime host of open mics at the Cactus Café), this evening of musical and poetic performances features talented students and scholars celebrating UT's global community.
Monday, November 15
Doors open at 7:00 pm
Performances begin at 7:30 pm
The Cactus Café is an all-ages venue located within UT's Union Building (UNB)
Support children in Yemen by checking out our International Bake Sale and buying homemade baked goods from around the globe!
–
In-person: Speedway
UT brings many talented individuals to campus. Meet a few of our international scholars in a relaxed social atmosphere in Zoom. Learn about their research as well as tips for living and working in Austin. This event is free and open to all.
–
Register HERE to receive the Zoom link.
Celebrate the scientists and science behind the COVID-19 Vaccines, featuring live music from Nané the band!
–
In-person: Main Mall
Free for UT students, staff and faculty
Student art, performances, and interactive activities

An exciting science demo by author and Professor "Kate the Chemist" Biberdorf
A COVID-19 vaccine pop-up
Snacks, raffle prizes, t-shirt giveaways and more!
Learn a foreign language in 5 minutes with the help of our international members!
–
In-person: UTC 1.102
Planet Longhorn invites you to join us for International Trivia Night where you can show off your knowledge and win some prizes!
–
In-person: Dobie 21 Rooftop
The University of Texas Mariachi, known as the The Mariachi Paredes de Tejastitlán, was founded in 1977. It was named in honor of Dr. Américo Paredes (1916-99), a seminal figure in the history of border studies, Mexican American studies and the post-modern movement in anthropology.
–
Free Admission
In-person: Bates Recital Hall
Virtual: Livestream