Coming Up in ELC:
Final Reception: TALENT SHOW
Friday, December 3
5:30 pm – 7:00 pm 
Texas Union – Santa Rita Suite (UNB 3.502)
Winners of the spring 2022 scholarship will be announced!
Each semester, our final reception features a talent show.
Past shows have included:

songs- Karaoke style! 
martial arts demonstrations
dances
poems in many languages
international fashion shows
skits and comedy

Don't feel shy! Grab your friends and classmates to help you out!
We will also put together a slide show of photos from throughout the fall. Please share your pictures here to add them to the show!
When you've decided what you'll perform, send me an email so that we can add you to the program and coordinate your audio and video needs.
We can't wait to hear what you have planned! 
Continuing Student Applications
For Spring 2022
Application available onlineHERE
We would love to see you again!
Upcoming Social Events:
Talk Time – Virtual
Practice your English conversation skills with native English speakers!
Final Talk Time of Fall 2021!
Tuesday, November 23
4:30 – 5:30 pm
On Zoom: Link on Canvas calendar!

Thanksgiving Dinner
In many American households, the Thanksgiving celebration centers on cooking and sharing a bountiful meal with family and friends. Turkey, a Thanksgiving staple so ubiquitous it has become synonymous with the holiday, may or may not have been on offer when the Pilgrims hosted the inaugural feast in 1621. Today, however, nearly 90 percent of Americans eat the bird—whether roasted, baked or deep-fried—on Thanksgiving, according to the National Turkey Federation. Other traditional foods include stuffing, mashed potatoes, cranberry sauce and pumpkin pie, according to History.com.
Hoover's Cooking:
Hyde Park:
Wheatsville Co-op:
Thanksgiving Activities
The feast is the center of attention during the Thanksgiving holiday, but there are a few other ways American's also like to celebrate! Parades are a popular community activity. These often feature local students, bands, dancing groups, and floats decorated for the occasion. Volunteering is another common Thanksgiving Day activity. Communities often hold food drives, fundraisers, and host free dinners for the less fortunate.
Macy's Thanksgiving Day Parade:
A true American tradition. The 94th Annual Macy's Thanksgiving Day Parade will air on television nationwide on Thursday, November 25, 2021 from 9 am – 12 pm in all time zones. The parade will also be live on NBC's new-ish streaming service, Peacock (you can sign up for a free-account).
The Macy's Thanksgiving Parade is a beloved American tradition, not only for the nation but also for the people that create it. In this heart-warming, behind-the-scenes video, you'll meet some of the incredibly talented team that builds and creates this spectacular Thanksgiving celebration as they share their personal Parade stories with you.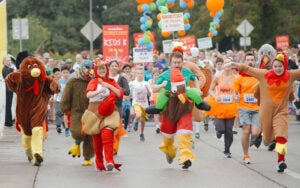 It's the 31st Annual ThunderCloud Subs Turkey Trot. This is one of Austin's most beloved Thanksgiving traditions! The event will be live in-person and virtual this year, featuring a 5-mile run, 1-mile walk, and Kids-K. 100% of the event proceeds will benefit Caritas of Austin, a non-profit that works to prevent and end homelessness in the Austin community.
Operation Turkey:
A 100% volunteer organization that works together to ensure everyone receives a meal on Thanksgiving Day. Each year they prepare, package, and deliver meals to the homeless and less fortunate in just 4 hours.
Watch the new video, below, to learn how you can help!
Turkey Tailgate
Join Operation Turkey at Rodeo Austin to help them smoke 600 turkeys, accept donations, and make preparations for Thanksgiving Day! They will have plenty of volunteer opportunities for everyone throughout the day. You can volunteer 1 hour or all day long and kids are welcome at this event.

Wednesday, November 24

6:00 am

 – 

8:00 pm

Rodeo Austin

,

9100 Decker Lake Rd, Austin, TX 

Read tips about what to expect on Thanksgiving Day, Frequently Asked Questions, and sign up to volunteer online, HERE.
Thanksgiving Day 
This is the big event where Operation Turkey prepares, packages, and delivers meals to those in need. Be sure to register to volunteer at www.operationturkey.com so that you get their informational emails.

Thursday, November 25

8:00 am

–

12:00 pm

2 locations:
Read tips about what to expect on Thanksgiving Day, Frequently Asked Questions, and sign up to volunteer online, HERE.