Coming Up in the ELC:
Applying to Undergraduate School Info. Session: 
Upcoming Social Events:
Valentine's Day Sweets & Treats Social
Talk Time
Texas Global ISSS: Happy Hour
Blanton Museum of Art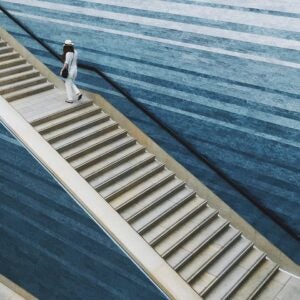 Contains 19,000 works in the collection, the Blanton showcases art from across the ages, from ancient Greek pottery to abstract expressionism.
Ellsworth Kelly's Austin, 2,715-square-foot stone building with luminous colored glass windows, a totemic wood sculpture, and fourteen black and white marble panels.
Admission is FREE with your UT ID!
Hours:

Wednesday-Saturday: 10 am – 5 pm
Sunday: 1 pm – 5 pm
Monday and Tuesday: Closed

Located at 200 E Martin Luther King Jr Blvd.
The museum grounds are under construction, but they are still open! The entrance is on Brazos St. See Map
Masks are strongly recommended inside the museum regardless of vaccination status.
'Assembly'  Exhibit
Visit the second floor of the Blanton Museum to see the "Assembly: New Acquisitions by Contemporary Black Artists" exhibit, featuring an assortment of paintings, drawings, sculptures, photographs and textiles created by contemporary Black artists. Although diverse in style and subject matter, many of the works have ties to Southern history and reveal what scholar Saidiya Hartman refers to as "the long afterlife of slavery." The exhibit will be on view in the Huntington collection galleries through May 8, 2022. Read more about the exhibit.

Sally Mae Pettway Mixon, "Blocks and strips" (2003)

Gee's Bend Quilts on View: Included in the "Assembly" collection are two quilts from Gee's Bend—a multigenerational community of Black women in rural Alabama who, since the 19th century, have transformed scraps of found fabric into bold, improvisational abstractions. The Blanton was honored to be one of five university museums to acquire quilts from Gee's Bend in 2021. Read more about the collection

Public Tours: Gain a deeper understanding of new key contemporary works of art during this public tour which will focus on our special presentation Assembly: New Acquisitions by Contemporary Black artists.
Please arrive at least 15 minutes before the start of the tour. They can accommodate a maximum of 25 people on a first come, first serve basis. Please check-in with the Visitor Services Desk to secure your place.
Sunday, February 13 at 3:00 pm
Thursday, February 24 at 12:30 pm
Sunday, February 27 at 3:00 pm