Coming Up in ELC:
Session 2 Electives Begin
Tuesday, March 29
11:00 am – 12:50 pm
Scholarship Application: Summer 2022
Application available online HERE
Submission Deadline: Monday, April 18 @ 5:00 pm Texas Time

Two (2) scholarships are typically awarded: one for AEP

 and one for ELP

Award will cover 

$1700

 towards 

int

ensive tuition for the Summer I

2022

(10

–

week

) 

session in either AEP or ELP.
Continuing Student Applications
For Summer 2022
Application available online HERE
We would love to see you again!
Upcoming Social Events:
Talk Time
Practice your English conversation skills with native English speakers!
Tuesday, March 29
4:30 – 5:30 pm
In Person: BEN 1.108
Texas Memorial Museum Social
Join your friends in the ELC for a tour of UT's natural history museum.
Friday, April 1
3:45 – 5:00 pm
Located at 2400 Trinity St.

Lady Bird Johnson Wildflower Center
It's bluebonnet season! Here in Texas, these cheery wildflowers welcome us to spring. You'll begin to see them popping up, seemingly overnight, all along the sides of highways, across campus, and in your social media feeds.
The Lady Bird Johnson Wildflower Center is officially designated the Botanic Garden and Arboretum of Texas. The Wildflower Center is dedicated to inspiring the conservation of native plants. As the Botanic Garden of Texas, the Center displays native plants from across the state in its gardens and arboretum and serves as a model for creating beautiful, sustainable landscapes.
Located in South Austin
284 acres!
Nearly 900 species of native Texas plants are cultivated or grow naturally here!
The center has a mix of cultivated gardens, an arboretum, managed natural areas and wildlands.
The landscapes and buildings reflect the center's purpose to conserve native plants, create sustainable landscapes and conserve resources.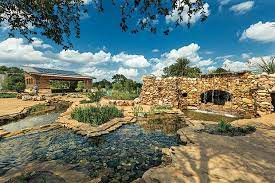 Open by reservation; masks optional.
Hours: 9 am – 5 pm; every day!
Admission Rates- Reserve Your Spot!
FREE UT Austin Students (with ID)
$15 Adults
$8 Youth (Ages 5 – 17)
FREE Children 4 years and under
The audio tour will accompany you as you explore the Botanic Garden of Texas.
Open late from 5 pm – 8 pm
Tuesdays until May 10
Live music, local artists, food trucks, and more!
Regular admission rates
FREE UT Austin Students (with ID)!