Coming Up in ELC:
Scholarship Application: Fall 2022
Application available online HERE
Submission Deadline: Monday, July 18 at 5 p.m.

Two (2) scholarships are typically awarded: one for AEP

 and one for ELP

Award will cover 

$2,500

 towards 

int

ensive tuition for the Fall

2022 

(15

–

week

) 

session in either AEP or ELP.
Final Reception: TALENT SHOW
Friday, August 5 
5:30 pm – 7:00 pm
Winners of the Fall 2022 scholarship will be announced!
Each semester, our final reception features a talent show.
Past shows have included:

songs- Karaoke style or musical instruments! 
dances
martial arts demonstrations
poems in many languages
international fashion shows

Don't feel shy! Grab your friends and classmates to help you out!
We will also put together a slide show of photos from throughout the fall. Please share your pictures here to add them to the show!
When you've decided what you'll perform, send me an email so that we can add you to the program and coordinate your audio and video needs.
Please let me know by Monday, August 1 by 5:00 pm. 
We can't wait to hear what you have planned! 
AEP Colloquium: An Insider's Guide to Grad School
A panel of current international grad students will share their experiences and advice in this special event.
Required for all AEP students. 
Tuesday, July 19
2:00 – 3:30 pm
In Person: CBA 3.304, Events Room by the Atrium
Continuing Student Applications
For Fall 2022
Application available onlineHERE
We would love to see you again!
Upcoming Social Events:
Talk Time
Practice your English conversation skills with native English speakers!
Tuesday, July 19
4:30 – 5:30 pm
In Person: PAR 101
WAHOO Social
WAHOO means Wednesday afternoon hangout opportunity. Join your friends and classmates after class for cookies, cool drinks, and socializing.
Wednesday, July 20
3:45 – 4:45 pm
In Person: CBA 3.304, Events Room by the Atrium
The Harry Ransom Center
The Harry Ransom Center is well-known around the world as an outstanding humanities research center. Right here on the campus of The University of Texas at Austin, the HRC's incredible collections contain millions of writings, rare books, photographs, and works of art.
Admission is free!
Hours:

Tuesday-Friday: 10 a.m.-5 p.m.
Saturday-Sunday: Noon-5 p.m.
Closed Mondays
Women and the Making of Joyce's Ulysses:
On display until this Sunday, July 17
James Joyce was a famous Irish author and poet. He is remembered as one of the most influential writers in the 20th century. He wrote in the modernist style and experimented with the English language.
His most famous book, Ulysses,  is "considered a landmark work of literary modernism."
"This exhibition marks the 100th anniversary of the book's publication and investigates the important and largely unacknowledged role of women in realization of his famed masterpiece."
Read more about this exhibition.
Frida Kahlo's Self-Portrait with Thorn Necklace and Hummingbird:



Frida Kahlo was a self-taught artist and painter living in the early 20th century.
She is one of the most famous modern Mexican artists.
Her life and many struggles continue to inspire women, Latinos, people with disabilities, and LGBTQ+ people.
HRC has one of Kahlo's best-known self-portraits.
Read more about Frida Kahlo's Self-Portrait.
The Niépce Heliograph: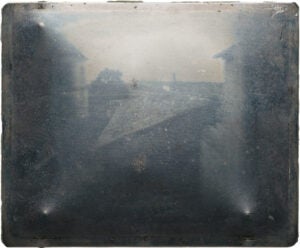 Made in 1827 by Joseph Nicéphore Niépce. 12 years before the photograph was invented!
"It is the earliest photograph produced with the aid of the camera obscura known to survive today."
"He tried an array of chemicals, materials, and techniques to advance the process he ultimately called héliographie, or 'sun writing.'"
"He inserted the plate into a camera obscura and positioned it near a window in his second-story workroom. After several days of exposure to sunlight, the plate yielded an impression of the courtyard, outbuildings, and trees outside."
Niépce called these ghostly pictures "points de vue."
Read more about The Niépce Heliograph.
And, if you need a reminder (like I did) of what a camera obscura is, check out this simple explanation.
The Gutenberg Bible:
"In Mainz, Germany, in the mid-1450s, Johann Gutenberg and his partner Johann Fust published more than 150 large-format copies of the Bible in Latin."
The Gutenberg Bible was the first book printed with a printing press to mass-produce books.
The printing press "helped change how information traveled in Europe and, later, the world."
HRC has one of only twenty surviving copies in the world!
You can read more about it and browse the digitized pages of this nearly 600-year old book.