Coming Up in ELC:
No Classes Monday
No classes!
Monday, October 10
UT Grad School Fair
The largest annual gathering of graduate school recruiters on campus.
Tuesday, October 11
10:00 am – 2:00 pm
See the list of 2021 Graduate School Fair participating institutions here.
Grad School Advising with Ellen
In connection with the UT Grad School Fair, Ellen will offer advising on grad school planning and applications.
 
Resume, CV, and Cover Letter Writing Presentation
Learn why resumes, CVs, and cover letter are important and how to write them!
Thursday, October 13
11:30 am – 12:30 pm
Upcoming Social Events:
Talk Time
Practice your English conversation skills with native English speakers!
Tuesday, October 11
4:30 – 5:30 pm
Bowling & Games Social
Join your friends and classmates in the ELC for fun playing bowling and other games.
Bring your UT ID and socks if you want to bowl.
Friday, October 14
3:30 – 4:45 pm
Blanton Museum of Art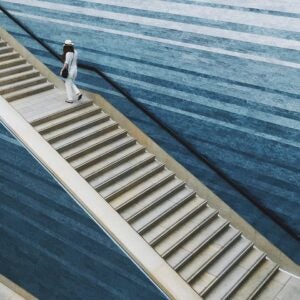 Containing over 21,000 works in its permanent collection, the Blanton Museum of Art showcases art from across the ages, from ancient Greek pottery to abstract expressionism.
Ellsworth Kelly's Austin, 2,715-square-foot stone building with luminous colored glass windows, a totemic wood sculpture, and fourteen black and white marble panels. *Please note Austin is temporarily closed September 7 – November 1, 2022.
Admission is FREE with your UT ID!
Hours:

Wednesday-Saturday: 10 am – 5 pm
Sunday: 1 pm – 5 pm
Monday and Tuesday: Closed

Located at 200 E Martin Luther King Jr Blvd.
The museum grounds are under construction, but they are still open! The entrance is on Brazos St. See Map
On view until January 8, 2023.
Golden brocades and voluptuous fabrics are a characteristic visual feature of Spanish American art. 
"While there's long been a vogue for exhibiting fashion in museums, Austin's Blanton Museum of Art is using fashion to explore art history. Painted Cloth: Fashion and Ritual in Colonial Latin America opened with more than 70 objects produced across Latin America in the 1700s." Read more on Artnet News.

Unknown artist, De Lobo y Negra, Chino [From Lobo—of Indigenous and Black Descent—and Black, a Chino is Born], circa 1775, Mexico City; oil on copper. Museo de América, Madrid. Photo: Javier Rodríguez. Courtesy of the Blanton Museum.

"The elaborate fabrics, fashion, and other richly textured works in this show will give our audiences a good look into everyday life during an era of dynamic cultural exchange," said the Blanton's director Simone Wicha, in a statement. "And show how clothing—then as now—is so intertwined with our identities." Read more on Artnet News.
"Garments are a lens by which we can recognize the many inequalities and societal contradictions that characterized the social fabric of this contested era," said Rosario I. Granados, the show's lead curator, "which altered the lives of so many Indigenous communities, but also the beauty of the Spanish America's artistic production and thereby the diverse cultures of its peoples. This exhibition brings visibility to the art of the Spanish Americas, which continues to be misrepresented and needs to be acknowledged in all its inventiveness." Read more on Artnet News.
"Fashion provided agency for all social sectors both in terms of race and class, and despite the goal of the Spanish authorities, who tried to restrict certain garments to specific social sectors, fashion was, as it is today, very fluid," Dr. Rosario I. Granados, Marilynn Thoma Associate Curator of Art of the Spanish Americas for the Blanton Museum, says. "You can wear things to be perceived in the ways you want to be perceived and that was very much what happened in the colonial period. And I think it's important because maybe that same conversation about how fashion allows you to navigate from different periods is something that [could help us] start having a conversation about race. Just as gender is very fluid, why don't we accept that race is also very fluid, that your skin color says something about you but doesn't limit you to what you need to be?" Read more on Women's Wear Daily.

In Presentation of the Virgin in the Temple, an 18th-century work of oil and gold on canvas, tunics and mantles are gilded with brocateado, a gold-brocade technique from the Cusco School of painting, which introduced Andean elements to Catholic subjects. Collection of Carl and Marilynn Thoma. Courtesy of the Blanton Museum.

For a limited two-week run, Austin-based Salvage Vanguard Theater will perform Casta. The immersive performance features puppetry, dance, and original music. Casta is inspired by Mexican casta paintings, which depict the mixing of races that occurred in colonial Latin America. Set in Mexico City in 1785, the play depicts a wealthy patron who commissions an apprentice to paint a casta series. Although the painter tries to please the patron, the portraits come to life and revolt. Performances of Casta, included with museum admission, will take place in the Blanton's Rapoport Atrium at 2 p.m. on the following days: October 20, 22, 23, 27, 29 & 30, 2022.
Gain a deeper understanding of new key contemporary works of art or some of the collections' fan favorites during these public tours.
Please arrive at least 15 minutes before the start of the tour. They can accommodate a maximum of 25 people on a first come, first serve basis. Please check-in with the Visitor Services Desk to secure your place.
Sunday, October 9 at 3:00 pm – Contemporary artists at the Blanton
Thursday, October 13 at 12:30 pm – Painted Cloth exhibit
Sunday, October 16 at 3:00 pm – Painted Cloth exhibit
Thursday, November 3 at 12:30 pm – Painted Cloth exhibit