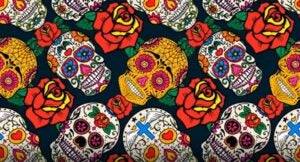 Coming Up in ELC:
Scholarship Application: Spring 2023
Application available online HERE
Submission Deadline: Monday, November 7 @ 5:00 pm

Two (2) scholarships are typically awarded: one for AEP

 and one for ELP

Award will cover 

$2500

 towards 

int

ensive tuition for the Spring 

2023 

(15

–

week

) 

session in either AEP or ELP.
Continuing Student Applications
For Spring 2023
Application available online HERE
We would love to see you again!
Upcoming Social Events:
Talk Time
Practice your English conversation skills with native English speakers!
Tuesday, November 1
4:30 – 5:30 pm
Halloween Lunch & Learn Social
Bring your lunch, and come learn about Halloween in the US. There will be cookies and candy to share.
Monday, October 31
12:45 – 1:45 pm
CBA 3.304, Events Room by the Atrium
Día de los Muertos
What is Día de los Muertos?
According to Austin's Mexic-Arte Museum, "Celebrated by Mexicans and Mexican Americans alike, as well as others in Latin America, Día de los Muertos/Day of the Dead is an important religious and cultural event that synthesizes pre-Columbian traditions and Catholic Church practices. Originating in ancient Mexico, the annual celebration is increasingly observed in the United States as part of contemporary Latinx popular culture. Day of the Dead blends indigenous religious and cultural rituals with customs surrounding the Catholic holy days: 
Who is la Catrina? Why do people paint their face like skeletons?
The original image was created by artist Jose Guadalupe Posada in Mexico City in right before the Mexican Revolution. The Catrina is a well-dressed skeleton that pokes fun at the brevity of life, the futility of materialism, and is a commentary on both death impersonated and a historical embrace of the life/ death cycle that started in ancient Mexico.

Saturday, October 29
Grand Procession: 12:00 pm
Festival: 1:00 – 6:00 pm
Admission: FREE!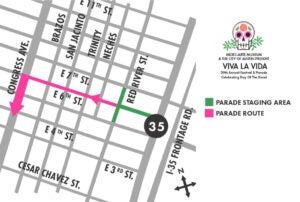 "The Grand Procession brings together a vibrant and varied mix of traditional, ancient, contemporary, and Austin "Weird." The Procession – including costumes, props, live music, dancers, and floats – marches down historic 6th Street and culminates at E. 4th Street and Congress Avenue."