Coming Up in ELC:
No Classes Monday, Juneteenth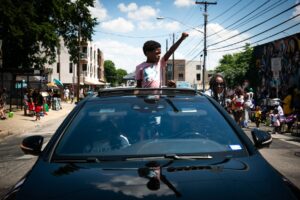 No classes!
Monday, June 19
Juneteenth is a national holiday also known as "Freedom Day" or "Emancipation Day." It commemorates the announcement of the abolition of slavery in Texas.
"Many Americans think slavery ended in the U.S. the day President Abraham Lincoln signed the Emancipation Proclamation on Jan. 1, 1863, but some 250,000 enslaved Texans waited another two years to learn about their freedom. On June 19, 1865, federal troops led by Gen. Gordon Granger arrived in Galveston to announce that all enslaved people had been freed. A year later, a group of freedmen came together to celebrate the anniversary of their liberation and began the tradition of Juneteenth.
Texas was the first state to recognize June 19 as a state-wide holiday on June 7, 1979. President Joe Biden declared the day a national holiday in 2021. Since the first celebration in 1866, Juneteenth commemorations have expanded across the country." Kut.org
Read this article about different ways you can celebrate Juneteenth around Austin this year.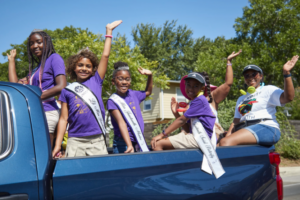 Upcoming Social Events:
Talk Time
Practice your English conversation skills with native English speakers!
Tuesday, June 20
4:30 – 5:30 pm
Bowling Social
Join your friends and classmates in the ELC for fun playing bowling and other games.
Bring your UT ID and socks if you want to bowl.
Friday, June 23
3:45 – 5:30 pm
Volunteering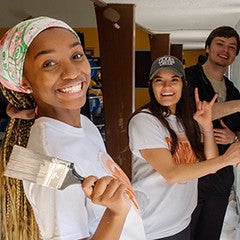 Faculty and staff of the ELC are frequently asked, "how can I practice my English?" One of our top responses is, "volunteer!" Volunteering is an excellent way to practice your English skills! "While some people are naturally outgoing, others are shy and have a hard time meeting new people. Volunteering gives you the opportunity to practice and develop your social skills, since you are meeting regularly with a group of people with common interests." Read more about the surprising benefits of volunteering.
"Volunteering is when you offer your time and services for free to a person, organization, or effort to better your community. Volunteering your time and effort within your community to support ideas you are passionate about or organizations you believe in helps you form bonds with others, and it can improve your quality of life! When you volunteer to help others, you contribute to a larger purpose and make a valuable difference in the lives of others." Read more about the importance and benefits of volunteering.
This is a free on-campus food pantry and career closet for all currently enrolled students at UT Austin. Emergencies and financial hardships can affect students in and outside of class. UT Outpost is here to support students with healthy food and gently used professional clothing.
UT Outpost welcomes UT Austin-affiliated volunteers, prioritizing opportunities for student volunteers. Volunteers sort food and clothing donations, restock the food pantry and career closet, and help with other tasks and programs.
Volunteer shifts are for one and a half hours, Monday – Saturday, and are limited to three volunteers at a time.
To volunteer follow the instructions for joining UT Outpost on GivePulse.
Please allow up to one week for UT Outpost staff to approve your membership. Once approved, schedule your training shift at UT Outpost. Volunteers can access monthly shift sign-ups after completing a training shift.
Summer Hours:

Tuesday: 2 – 6 pm

Wednesday: 2 – 6 pm

Thursday: 2 – 6 pm

Friday: 10 am – 2 pm

Saturday: closed until June 24

Closed: Sunday & Monday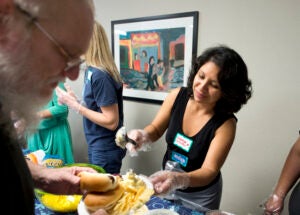 This is a local Austin nonprofit. They provide affordable homes and free on-site support services for thousands of families with kids, as well as veterans, seniors, and individuals with disabilities. They empower residents and neighbors to achieve educational success, financial stability, and healthier lifestyles. They own and operate 26 communities all over Austin and North Texas.
There are multiple ways to volunteer:

Welcome new residents home and help build community.
Provide classroom support, homework help, and lead enrichment activities.
Serve as a teaching assistant for adults who want to communicate more effectively with their children's teachers.
Help set up pantries and serve clients accessing fresh, healthy food.
Casa Marianella welcomes displaced immigrants and promotes self-sufficiency by providing shelter and support services.
Two clusters of shelters in renovated houses in residential neighborhoods in East Austin serve women and children escaping violence and adult immigrants. Their shelters are home-like facilities designed to meet emergency or transitional needs so vulnerable and injured people can resolve their immediate crisis, get stabilized and once again become independent, which then opens up space for new residents.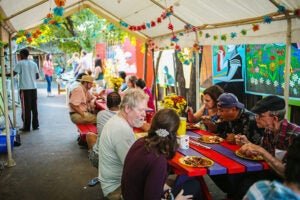 Volunteer at the Casa Marianella Adult House:

The volunteer program is very flexible, permitting you to work the hours and days you select. Please email (volunteer@casamarianella.org) and let them know what your interests are and when you would like to get started.
Current volunteer needs:

Help at the shelter sorting donations, organizing the mail system, and getting to know Casa residents.
Help people who have moved out of our shelter through our Neighbor to Neighbor program.

Volunteer at Posada Esperanza (Women's House):

Posada Esperanza welcomes all volunteers from the Austin community to serve in a number of roles. Please email (posadaesperanza@casamarianella.org) and they will set you up with a time to come to one of their volunteer orientations.
Current volunteer needs:

Deliver food to former Posada residents in need.
Drive Posada residents to doctor appointments.
Provide help filling out job applications over the phone with Spanish, Portuguese, and French speakers.