Coming Up in ELC:
Deadline to Sign Up for Institutional TOEFL
This is a special version of the TOEFL exam on paper. It tests reading, listening, and structure (grammar).  It does not include writing or speaking sections. It is not the typical internet-based (iBT) format. Scores can usually only be used to apply to universities in Austin, such as UT Austin.
This is a good way to test your skills and get TOEFL scores for applying to schools in Austin.
Please Note: not all departments at UT will accept this score since it does not test writing or speaking skills.
Learn more about the Institutional TOEFL ITP.
The Institutional TOEFL exam will be on Monday, July 31, 1:00 – 4:30 pm
There is no charge for the exam if you are a full-time student in ELP or AEP or if you took the TOEFL class.
If you are a part-time student who did not take the TOEFL class, you must pay a $25 test fee by June 28.
Upcoming Social Events:
ISSS Art & Ice Cream Social
Join other UT Austin international students and scholars for a visit to the Blanton Museum of Art followed by an ice cream social to cool off in the Texas Heat!
The group will meet outside in front of the Blanton at 1:00 pm. After touring the museum, the group will gather for some delicious ice cream and other light refreshments. Make sure to bring your UT ID for free admission into the museum!
Sunday, June 25
1:00 – 5:00 pm
Talk Time
Practice your English conversation skills with native English speakers!
Tuesday, June 27
4:30 – 5:30 pm
WAHOO Social
WAHOO means Wednesday afternoon hangout opportunity. Join your friends and classmates after class for cookies, cool drinks, and socializing.
Wednesday, June 28
3:45 – 5:00 pm
CBA 2.564, Big Bend Conference Room

Pools and Splash Pads in Austin
Austin is a wonderful place to live, but it get HOT during the summer! Here are some ways to stay cool while you explore UT and Austin this summer.
Activities:
Lap swimming
Leisure swimming
Water Basketball
Water Volleyball
Natatorium:
Monday – Friday: 6 – 11 am
Saturday & Sunday: 10 am – 1 pm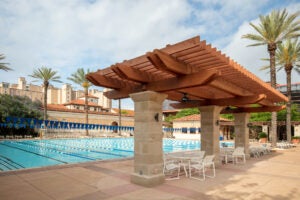 Outdoor Lap Pool:
Monday – Friday: 11 am – 7 pm
Saturday & Sunday: 1 – 5 pm
Outdoor Leisure Pool:
Monday – Friday: 12 – 5 pm
Saturday & Sunday: 1 – 5 pm
RecSports Memebership:
Gregory Gym Aquatic Complex is a part of RecSports.
Membership to RecSports is not included in your ELC tuition.
You can purchase your membership online, linked here.
$26 a month!
Natural spring-fed water.
It's COLD! 68-70 degrees Fahrenheit (20-21 degrees Celsius)
Federally protected habitat, which is home to the Barton Springs Salamander.
Hours: Guarded Swim – MTWFSS (everyday except Thursday) 8 am – 10 pm
Thursday – closed 9 am – 7 pm. Open Guarded Swim from 7 pm – 10 pm.
$5 entry
Hours:
Just one part of the larger Butler Metro Park (formerly Town Lake Metro Park). This fountain overlooks downtown Austin, and lights up beautifully at night!
Located super close to campus, the splash pad is at the southern most point of the newly renovated Pease Park at 1100 Kingsbury St.
Hours:
Open daily 8 am – 9 pm
Mid-May – Mid-September
Austin Parks and Recreation operates 45 public pools and splash pads. Find one near you!