Upcoming Social Events:
Oita is Austin's sister city in Japan. Celebrate the culture of Japan at the Oita Japan Festival!
Activities include: Taiko, JPOP, Sumo, Kendo, dancing, Japanese festival food, Japanese garden seminar, Japanese language, arts & crafts, and many vendors!
Sunday, September 10
11:00 am – 4:00 pm
Pre-sale tickets are sold out due to capacity constraints. However, additional wristbands will be sold at the door as guests exit, after 1:00 pm.
Asian American Resource Center (AARC), 8401 Cameron Rd.
Prices: Adult (age 13+) – $20, Child (age 3-12) – $15, Child (age 2 and under) – free.
Talk Time
Practice your English conversation skills with native English speakers!
Tuesday, September 12
4:30 – 5:30 pm
Gregory Gym Tour
Join your friends and classmates for a fun tour of the Gregory Gym, Recreational Sports facilities, and the Aquatic Complex!
Thursday, September 14
4:30 – 5:30 pm
Meet at Gregory Gym (GRE) lobby, look for the entrance in the shade under the trees (like this picture).
You must bring your UT ID card! 
How to Use UT Student Health Insurance
Health insurance can be confusing because it uses words you may not know. To help you better understand health insurance, here are two lists of the most commonly used health care terms and definitions.
Always keep your insurance card with you and present it when you seek medical care. You will only be required to pay your part of the medical bill with insurance applied. The remaining balance will be billed directly to insurance by your medical provider. BlueCross/BlueShield of Texas is the provider for the AcademicBlue UT Student Health Insurance Plan.
This is a great resource if you are not sure if you should be seen or how soon you should be seen by a healthcare provider.
You can call a nurse advice line first for advice.
Nurse Advice Lines are staffed 24/7 and provide advice about caring for an illness at home or seeing a healthcare provider.
BlueCross/BlueShield Nurse Advice: number on the back of your insurance ID card.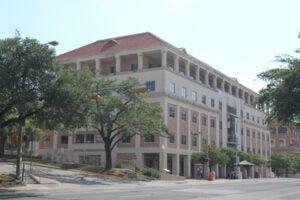 University Health Services (UHS) is the on-campus clinic available to students who purchased UT health insurance.
Location:Student Services Building (SSB)
100 West Dean Keeton Street
ELC students must call to make an appointment, 512-471-4955
UHS offers a variety of services and specialties. View these services online. Note that there are different hours and days of operation for some services.
Hours: Monday-Friday, 8 am – 5 pm
Treatments include:

Routine Medical Care
Prescriptions
Urgent Care
Women's Health
Allergy & Immunizations

Appointment Required? YES
Cost: $
Urgent Care Clinic:
For urgent conditions that can be treated outside of a hospital but require prompt attention. Like sprained ankles, fevers, minor injuries, flu symptoms, severe cough with fever, vomiting or diarrhea.
University Health Services Urgent Care

Location:Student Services Building (SSB)
100 West Dean Keeton Street
Appointment is not required, but you must call first.
ELC students must call first, 512-471-4955
Cost: $
Hours: Monday-Friday, 8 am – 5:30 pm (Summer)

CareNow Urgent Care

Location: 3906 North Lamar Boulevard Suite 100
Contact: (512) 861-8040
Appointment required? NO
Cost: $$
Hours:

Monday – Friday, 8 am – 8 pm
Saturday, 8 am – 7 pm
Sunday, 8 am – 5 pm
Emergency Room:
Call 9-1-1 to request emergency assistance if your condition is life-threatening or if you are in severe pain.
Seek care at a hospital if it is a true emergency that requires immediate medical attention, but you are able to transport yourself or if a friend can transport you.
Very severe or life-threatening issues. Like sever chest pain, difficulty breathing, paralysis, severe pain, sever physical trauma.
Locations:
Appointment required? NO
Cost: $$$$
Hours: 24 hours, 7 Days/Week
Contact: dial 9-1-1 or walk-in
*Dialing the numbers "9-1-1" on any phone will call an ambulance to your location. Ambulances are often expensive but can be lifesaving in a serious medical emergency.