Upcoming Social Events:
Talk Time
Practice your English conversation skills with native English speakers!
Tuesday, September 19
4:30 – 5:30 pm

Murder Mystery Lunch Social
Help solve a murder mystery during lunch! We will have a murder mystery game to challenge your detective skills.
Friday, September 22
12:45 
Texas Global: Downtown Art Walk
Explore downtown Austin and visit various iconic pieces of art in the city!
Participants will be placed into small groups with staggered start times and will check in at the Bird Sculpture in Republic Square. International Students and Scholars Services (ISSS) staff will give you your Downtown Art Walk locations and details about the optional social media contest. The Art walk takes around 1.5 – 2 hours to complete.
Saturday, September 23
10:00 am 12:00 pm

Pools and Splash Pads in Austin
Austin is a wonderful place to live, but it get HOT during the summer! Here are some ways to stay cool while you explore UT and Austin this summer.
Activities:
Lap swimming
Leisure swimming
Water Basketball
Water Volleyball
Natatorium:
Monday – Friday:

6 – 9 am
12 – 2 pm
5 – 7 pm

Saturday & Sunday: 10 am – 2 pm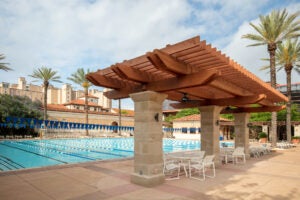 Outdoor Lap Pool:
Monday – Thursday: 7 am – 10 pm
Friday: 7 am – 9 pm
Saturday & Sunday: 11 am – 8 pm
Outdoor Leisure Pool:
Monday – Friday: 11 am – 7 pm
Saturday & Sunday: 12 – 5 pm
RecSports Memebership:
Gregory Gym Aquatic Complex is a part of RecSports.
Membership to RecSports is not included in your ELC tuition.
You can purchase your membership online, linked here.
$26 a month!
Natural spring-fed water.
It's COLD! 68-70 degrees Fahrenheit (20-21 degrees Celsius)
Federally protected habitat, which is home to the Barton Springs Salamander.
Hours: Guarded Swim – MTWFSS (everyday except Thursday) 8 am – 10 pm
Thursday – closed 9 am – 7 pm. Open Guarded Swim from 7 pm – 10 pm.
$5 entry
Hours:
Just one part of the larger Butler Metro Park (formerly Town Lake Metro Park). This fountain overlooks downtown Austin, and lights up beautifully at night!
Located super close to campus, the splash pad is at the southern most point of the newly renovated Pease Park at 1100 Kingsbury St.
Hours:
Open daily 8 am – 9 pm
May – October
Austin Parks and Recreation operates 45 public pools and splash pads. Find one near you!