Coming Up in ELC:
Resume and CV Writing Presentation
Learn why resumes and CVs are important and how to write them!
12:00 – 1:00 pm
Upcoming Social Events:
Talk Time
Practice your English conversation skills with native English speakers!
Tuesday, October 10
4:30 – 5:30 pm
Cookies and Card Games Social
Join your friends and classmates in the ELC for delicious cookies and fun card games! 

– 
Explore UT
Follow these self-guided tours to dive deeper into all The University of Texas at Austin has to offer.
This is the university's public art program. It is broadly accessible and free to all. The public art collection is one of the most distinguishing features of the main campus.
More than fifty works of modern and contemporary art are on view throughout the 433-acre campus.
Visit website for more information.
On Cell App:
You can enjoy the Landmarks collection while walking on campus. Use your smartphone to access self-guided tours of select outdoor works of art, audio guides, artist videos, Spotify playlists, and more. Download the app or scan the QR code below.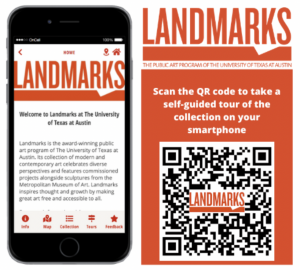 This app allows you to discover over forty works of art from Landmarks, the public art collection of The University of Texas at Austin.
Touch the navigation buttons at the bottom of this screen to access visitor information, maps, information about the collection, self-guided tours, and feedback options.
While on the Collections page, scroll to the top of the menu to search works of art by title or artist name.
Watch interviews (below) with artists and academics about works in the Landmarks collection.
Take this self-guided tour of the UT Austin campus.
Walk the gorgeous UT campus while discovering the secrets of sustainability and the history of the university.
About 2 miles long or just under 1 hour of walking.
This self-guided walking tour of Waller Creek explores the urban stream and ecosystem that bisects The University of Texas at Austin.
Learn about sustainable gardening on the UT campus, rainwater collection, native plants and wildlife, and so much more!
The tour is 1.9 miles long (about 1 hour)
Print this map!
Practice your English listening skills by listening to the tour narrated by staff!