Coming Up in ELC:
Scholarship Application: Spring 2024
Application available online HERE
Submission Deadline: Friday, November 3 @ 5:00 pm

Two (2) scholarships are typically awarded: one for AEP

 and one for ELP

Award will cover 

$2500

 towards 

int

ensive tuition for the Spring

2024

(15

–

week

) 

session in either AEP or ELP.
Continuing Student Applications
For Spring 2024
Application available onlineHERE
We would love to see you again!
Upcoming Social Events:
Talk Time
Practice your English conversation skills with native English speakers!
Tuesday, October 24
4:30 – 5:30 pm
Happy Hour Social at Moody's Kitchen
Join your friends in the ELC for a fun happy hour social at Moody's Kitchen restaurant.
4:30 – 6:00 pm
Moody's Kitchen 2530 Guadalupe St.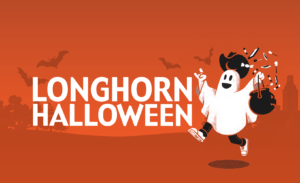 Sponsored by the Office of the President, this event is a safe place for children of UT's staff, faculty and students to join their parents on campus for an afternoon of ghoulish fun and trick or treating. Activities will range from mask making to ring tosses, performances, and more. The Littlest Longhorns are invited to plan their costume and join in the fun! This event is recommended for children age 13 and under and their parents.
Sunday, October 29
12:00 – 3:00 pm
Speedway Mall
Get in the spirit today and check out virtual activities, crafts, and more on the Longhorn Halloween website all month long! Here are some of my favorites:
Practice your English listening skills with spooky story time!

Listen to UT professor Dr. Douglas Bruster read "The Raven" by Edgar Allan Poe.
Listen to UT professor Dr. Thomas Garza read his translation of "The Family of a Vourdalak" by Aleksey Tolstoy.
Get swept away by this spooky Organ concert performed by Gregory Eaton, a lecturer in Organ and Harpsichord in the UT College of Fine Arts' Butler School of Music.
The Rocky Horror Picture Show Quote-Along
"Let's do the Time Warp again!" The Rocky Horror Picture Show is a madcap horror musical that became a cultural phenomenon!
In true Rocky Horror fashion, a consumed shadow-cast will be performing along with the movie.
Free for students and a guest with valid UT ID.
Wednesday, October 25
8:00 pm
Texas Union Building (UNB), Texas Union Theatre (UNB 2.228)
Blockbuster Film Series – Talk to Me
When a group of friends discover how to conjure spirits using an embalmed hand, they become hooked on the new thrill, until one of them goes too far and unleashes terrifying supernatural forces. Starring: Sophie Wilde, Alexandra Jensen, Joe Bird, Otis Dhanji, Miranda Otto. Directed Danny and Michael Philippou. 
Free for students and a guest with valid UT ID.
Thursday, October 26
First Screening: 6:00pm | Second Screening: 9:00pm
Texas Union Building (UNB), Texas Union Theatre (UNB 2.228)